KISC Staff & Crew
Tiffani Keanini, Project Manager: Tiffani began working for KISC in 2009, helping raise awareness to the Kauai community on the importance of invasive species prevention and control. In 2017, Tiffani became the new manager of KISC. Tiffani will continue to strengthen KISC as a project and a partner in the Kauai conservation community. tkeanini@hawaii.edu
Ray Kahaunaele, Field Operations Supervisor: Ray grew up in Anahola on the east side of Kauai and has seen the slow but steady displacement of native species by invasive plants and animals. Working at KISC has given him the opportunity to learn more about invasive species, their impacts on our island, and new technology to aid us in control and/or eradication of invasive species. Ray oversees all planning and logistics for field work and organizes partnership projects. rk30@hawaii.edu
Larry "Mugs" Kaneholani, Field Supervisor: Mugs has been with KISC since 2007. As the field supervisor, he enjoys working outdoors and helping keep Kauai true to its beauty. He supervises all field activities, working daily with the crew and interacting with the public and landowners.
Joe Aguon-Kona, Crew Leader: Joe has been with KISC since 2004 and knows every inch of this island, including the back-country. When he is not at work, he enjoys fishing, hunting, and spending time with his ohana. Joe helps lead the crew with fieldwork activities.
Pat Gmelin, Mongoose Response: Pat started with KISC in October, 2010 working on an island wide LFA survey. He became KISC's mongoose response tech in 2011, and has interviewed and mapped almost every mongoose sighting reported on Kauai since then. "Trapper Pat" helped lead a team that captured the first live mongoose on Kauai on May 23, 2012. He excels in public relations and assists with many outreach events around the island as well as working with the KISC field crew on many other target species. A member of Kauai's Native Plant Society, Pat enjoys exploring Kauai's native forests, and cultivating his own native plant garden. When he's not in the jungle, you can find him surfing, kayaking the Napali Coast, or playing banjo with his band Island Grass
Cleve Javier, Data Technician: Cleve Javier started working at KISC Since 2009 as a field natural resource technician. In 2013 he became the data technician in charge of KISC's GIS and database. It's a fancy way to say he makes reportable maps and does data entry. Cleve's background is he worked as an Agricultural Technician for USDA APHIS Plant Protection and Quarantine (PPQ) branch for 6 years, before making the move to KISC. When Cleve is not working at KISC, he is a Coach at Aura'I Fitness on island. And for fun he trains for and does obstacle course races in his free time.
Haylin Chock, Outreach Specialist: Haylin Chock has recently been brought on as outreach coordinator with the KISC Ohana in December 2020. She was born and raised on Kauai and graduated with her B.A.S, focusing on sustainable community food systems from the University of Hawaii at West Oʻahu in 2018. After moving home in 2018, she has opportunities to work with various non-profits on Kauai, such as Mālama Kauai as the Mahi ʻai Program manager, Limahuli garden preserve (NTBG) as horticulture technician, and Mālama Huleʻia as team research specialist. "My time spent with these organizations allowed me to rebuild pilina with my ʻāina and community after being away from home. Now I hope to serve my community through conservation education here at KISC".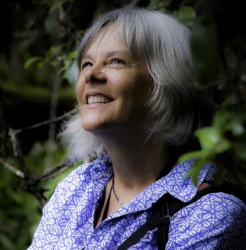 Kim Rogers, ROD Outreach Specialist: Since moving to Kaua'i in 1999, Kim Steutermann Rogers has worked as a freelance journalist and photographer covering conservation science efforts across the state. She also serves as a docent for Kilauea Point National Wildlife Refuge, monitors a large colony of Laysan albatross and wedge-tailed shearwater on private lands on the North Shore, surveys for botulism-diseased Koloa ducks at Hanalei National Wildlife Refuge, responds to callouts on behalf of the Kauai Hawaiian Monk Seal Conservation Hui and NOAA's Marine Mammal Stranding Team, sits on the advisory board for NOAA's Hawaii Islands Humpback Whale National Marine Sanctuary, and has trained dogs for Kauai Search and Rescue. Now, in her capacity for outreach and response, she's looking forward to directing her energies toward helping save Hawaii's native 'Ōhi'a trees from Rapid 'Ōhi'a Death.
Brenna Yunn Fowler, Rapid Ōhi'a Death Field Technician:
Brenna joined the KISC ohana in 2020 with a focus on protecting Hawaii's keystone tree, 'Ōhi'a, from the fungal pathogen Rapid 'Ōhi'a Death. In 2016 she completed her B.S. in Environmental Science with a concentration in Resource Management and Conservation. Her background previous to KISC includes aquatic ecology work with endangered salmonids in California; completing a KUPU term monitoring and propagating native plants with the National Tropical Botanical Gardens; and teaching English as a foreign language in Costa Rica. If she's not hiking through uluhe at work you'll find her making shell jewelry or eating empanadas.
Breghan Klein, Rapid ʻŌhiʻa Death Field Technician:
"Breghan started with KISC in 2021 as an invasive species field technician specializing in Rapid 'Ōhi'a Death response. She received a bachelor's degree in Environmental Science from DePaul University in 2020 with dreams of combining her passions of building community and restoring native forests. Shortly after graduation, Breghan found herself moving to Kauai to complete a Kupu term with the Division of Forestry and Wildlife as well as joining the conservation ohana on the island. Breghan loves being a part of the ROD squad and has invested herself in Hawaii's mission to save the beautiful 'Ōhi'a."
KISC Committee
The Committee is made up of resource managers from the state, county, federal, and private organizations as well as individuals. Committee meeting are open to the public and public input is always encouraged and welcome.
KISC Executive Committee
The executive committee provides guidance to KISC and helps assure that the KISC Strategic Plan will be carried out by KISC staff and Crew. KISC Executive Committee consists of 3 seats. Past Committee Chair, Committee Chair, Committee Chair Elect. These voluntary positions are 1 year rotating positions with a 3 year commitment. For complete details on the Chair position, please view KISC Chair Description.
The Executive committee provides guidance in determining KISC target species and yearly goals.
Past Committee Chair – Seana Walsh, NTBG
Committee Chair – Roshan Manandhar, CTAHR
Committee Chair Elect – Open
Technical advisors- Adam Williams (DOFAW), Kelsey Brock (UH-PCSU), Tim Flynn (NTBG), John-Carl Watson (KMWP), Randy Bartlett (HISC).