It's summer time in Kauaʻi. Now is the time for sun, sand, and jumping in the ocean, but are you aware that some of the fish you see are aquatic invaders that have become widespread in Hawaii? Roi (Cephalopholis argus), Taʻape (Lutjanus kasmira) and Prickly Seaweed (Acanthophora Spicifera) have all been introduced to Hawaii and it's up to us who call Kauaʻi home to be aware of what does and doesn't belong in our waters.
Roi (Cephalopholis argus)
This invasive fish was introduced in the 1950s. It was brought in with the intent to boost declining local fish stocks. People don't typically eat it here and while roi, also known as the peacock grouper, might be struggling elsewhere, it thrives in Hawaiʻi. Jan Dierking, a University of Hawaii scientist and foremost researcher on roi in Hawaii, says roi today is the most dominant inshore predator in the Main Hawaiian Islands. That is a big reason for concern among fishermen. There is a concern  that the fish is devouring native species, particularly ones that are commercially and recreationally prized. Roi, also known as Peacock grouper, is the grouper with the widest natural distribution of all 159 species in this family. The fact that it never naturally established successfully here illustrates how isolated Hawaii is. Here are some Roi facts:
◆ Roi are protogynous hermaphrodites, which means they start life as females and later switch sexes to males.
◆ Roi take two years to become sexually reproductive and generally live in harems of 1 male and up to 12 females.
◆ Roi harems occupy fixed territories, which the male defends against intrusion from neighboring harems.
◆ In Hawaii, individuals were found up to 16 years of age in studies, with a depth range of 1 to 130.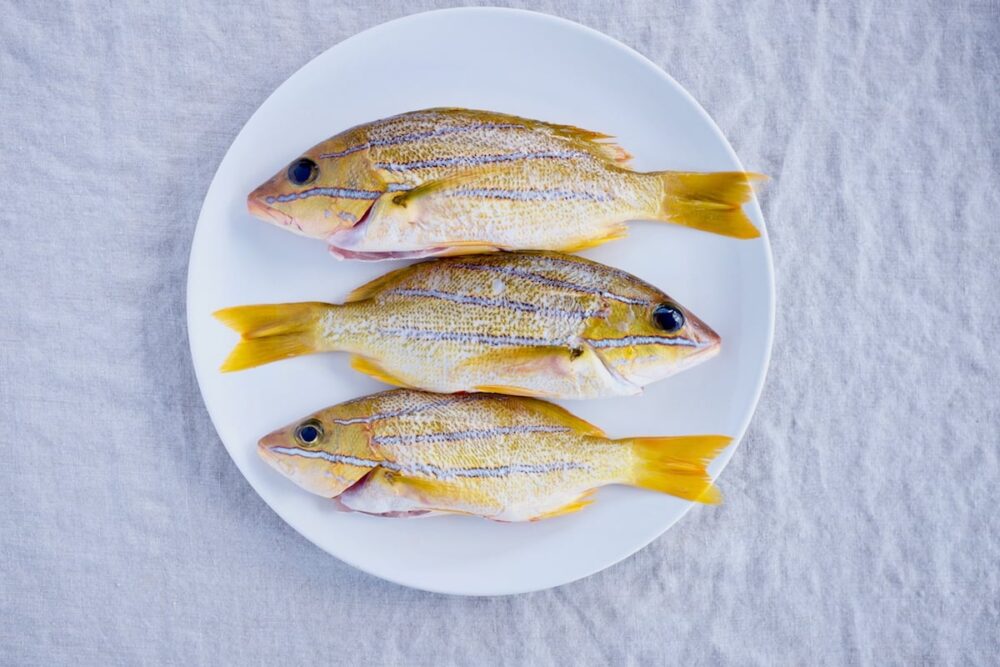 Taʻape (Lutjanus kasmira)
The bluestripe snapper, or taʻape, is a tropical fish, easily identified by its blue stripes and yellow skin. Although this fish looks as though it belongs in a tropical environment like Hawaii, the taʻape are an invasive species, competing with native fish and causing economic losses for local fishers. Taʻape ranges from the Indian Ocean to parts of the Pacific, in Hawaiʻi. Here's the taʻape facts. The taʻape was among several species that were introduced to the Hawaiian Islands from the South Pacific in 1955. It was intended to provide additional fishing opportunities and food sources for Hawaiʻi. Unfortunately, taʻape quickly became established and now is found across the state.
◆ Taʻape are common in shallow waters, and generally prefer to school near coral reefs and artificial structures. They are also found as deep as several hundred feet.
◆ Taape becomes sexually mature at two years and slightly more than half their maximum length. That happens at roughly 8 inches. Taape typically eat small prey, such as the tiny crab pictured here next to a pin.
◆ Taʻape eggs drift out to sea and larvae hatchlings survive the first three to four days on the yolk sac. In four to nine weeks, the fish return to the reef.
◆ There is no predator that prefers taʻape and no disease or parasite that would impact only taʻape and not other local fish. The best control available is fishing pressure.
However, there is an upside to this aquatic invader. I can say from experience that ta'ape is delicious. This snapper has white, delicate and mild meat and can be fried whole, grilled, steamed, or made into a smoked fish dip. The organization, Conservation International's Hawaiʻi program is working to promote this fish throughout the seafood supply chain. Together with partners at Chef Hui, Pili Group and Under My Umbrella, and working with commercial fishers. They aim to develop new ways to bring taʻape to communities across Hawaiʻi. Through this movement, they are helping local fishers, businesses and chefs contribute to a more sustainable food system in Hawaiʻi. Consumers are seeing that they can eat a tasty meal while supporting the local economy, improving island food security, and helping to reduce an invasive species.
Upcoming Events: Check out our community calendar for upcoming events. 8/5/23 the Kauaʻi Invasive Dive Tournament
Source Material: https://www.ncei.noaa.gov/data/oceans/coris/library/NOAA/CRCP/other/grants/NA10NOS4100062/10_FISHTALK_Roi.pdf
https://www.hawaii.edu/malamalama/2009/06/peacock-grouper-not-for-consumption-in-hawaii/
https://www.ncei.noaa.gov/data/oceans/coris/library/NOAA/CRCP/other/grants/NA10NOS4100062/10_FISHTALK_Roi.pdf
https://manoa.hawaii.edu/sealearning/sites/default/files/7_FISHLIFE_Taape.pdf
https://www.honolulumagazine.com/eat-me-because-im-pretty-a-taape-story/