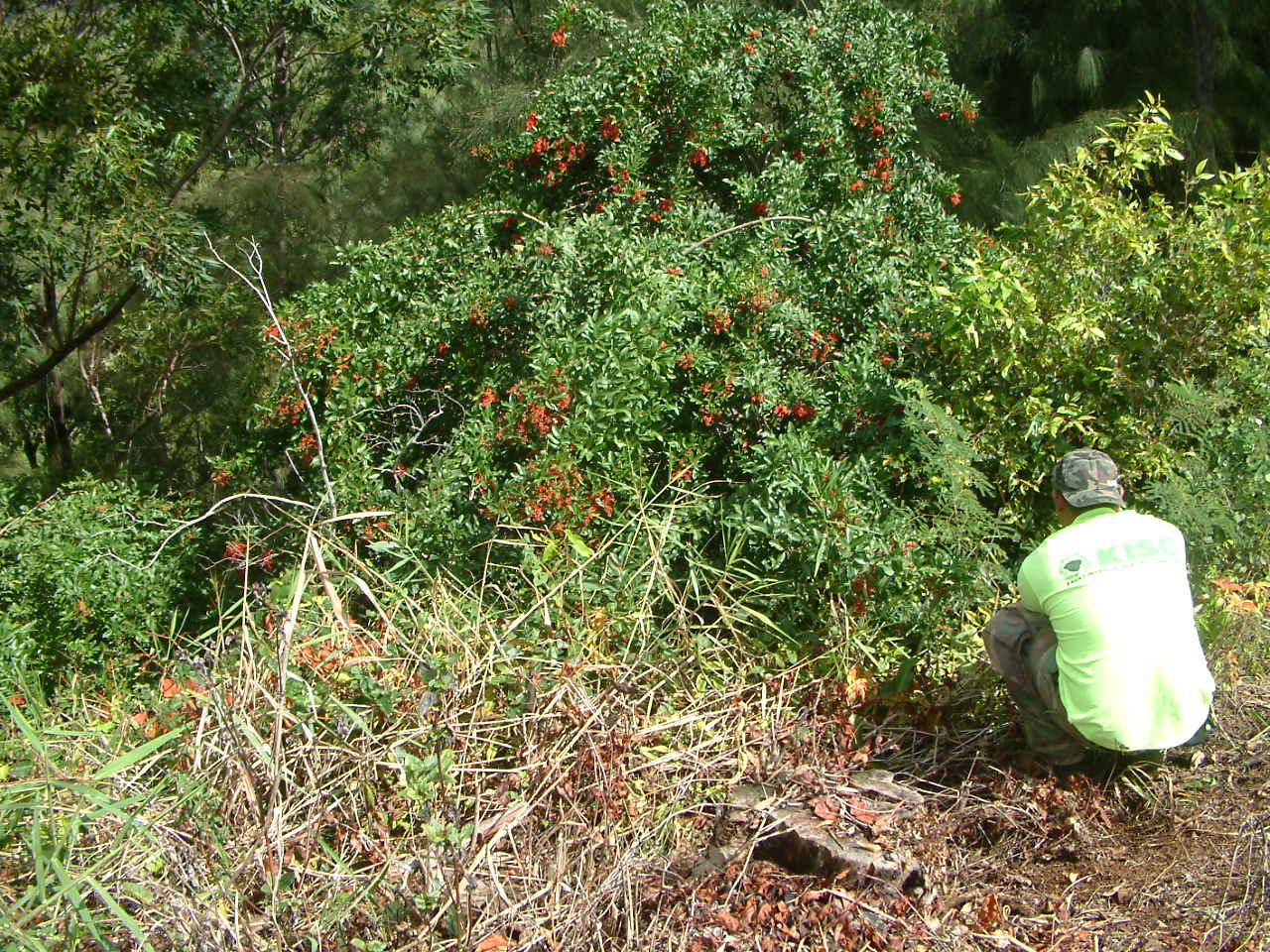 Barbados Gooseberry
REPORT IF SEEN: This species is currently controlled by KISC, if you see it please report it.
Barbados Gooseberry
Species: Pereskia aculeata
Family: Cactaceae
---
KISC is actively controlling this species. Sightings of this pest should be reported immediately. If you suspect that you have any of our targets on your property, KISC will survey and if confirmed, will remove it for free.
Description
---
Woody shrub when young, grows into climbing, leafy cactus, with branches are up to 11m (33 ft) long
Fragrant flowers (can be lemon, sweet, or repulsive smelling) and round yellow-red berries
Native to the West Indies and the northern coast of South America, introduced intentionally to Hawaii for horticulture (as an ornamental or for its fruit)
Impacts
---
Forms dense, thorny thickets in low elevations, overgrows and replaces other plants
It is extremely thorny with spines on both the trunks and vines
Destroys patches of forest by growing up into the canopy and smothering the trees
Easily spread by rooting broken stem fragments as well as by birds when seeds are present
Has become a major weed in South Africa where it is an escaped ornamental
On Kauai
Individual small populations have been found in Lawai, Poipu, and Aliomanu. KISC is treating opportunistically with landowner permission.
On the Pono Endorsement Black List. Pono Endorsed Nurseries and Landscapers have agreed to immediately discontinue the sale of Barbados Gooseberry.
You can plant pono by reporting Barbados Gooseberry to KISC at 808-821-1490 or kisc@hawaii.edu . KISC crew members can remove it from your landscaping free of charge and help identify suitable replacements.